Today is Earth Day and although I strive to celebrate it every day, today is a great day for us all to join together to make a real difference in our beautiful earth.
There are many simple things we can do today, and every day and it is growing easier and easier to do them since they are coming out now with tons of eco-friendly products.
just some ideas of what you could do to celebrate the day:
1. Pick up the litter in your neighborhood.
2. Use reusable cups for all of your drinks.
3. Use reusable eco friendly grocery bags.
4. Ride the Metro to work (if you have one in your area, or a bus, or even carpool)
5. Plant a new tree or some flowers with your family or friends.
6. Educate your children on the importance of caring for the Earth.
If you will be in the Washington, D.C. area today, there is a whole list of events going on for Earth Day, and you can check them out
here
.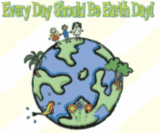 I've heard many common misconceptions lately that "this is an observance of a religion, etc" and people can say as they please, but isn't it just the mere fact that who is going to want to live here in the future if we have trashed our planet. We only have one and regardless whether you worship the earth or not, we should respect that it is a fragile thing and it wouldn't take much to ruin it.
Then where will we live?